Photos will also be taken during the tech builds and dress rehearsals. These will be copied onto flash drives and sold by the Boosters to raise money. A subset of the photos may also appear on the Booster website.
You are not expected to stop what you're doing when you see the camera pointed your way. We prefer that all shots be candids or action shots and not staged unless specifically asked to do so by the photographers.
Bios can be serious. They can be fun and quirky. They should be written to convey how you want the audience to perceive you. Here are three from a previous play for you to look at.
Click on the image to see it full sized.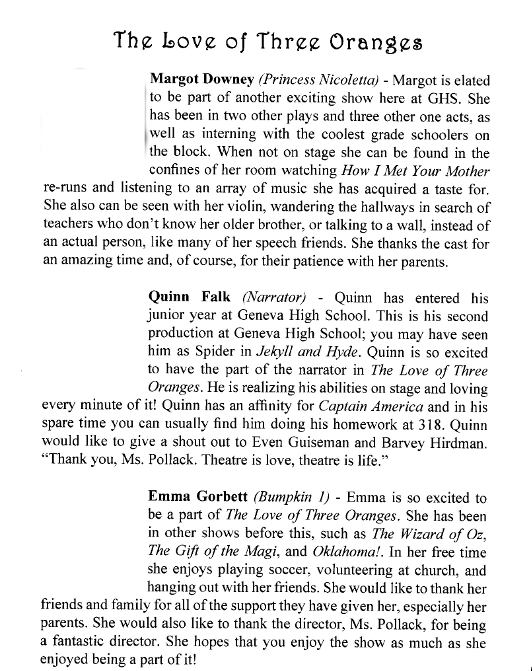 TECH BUILDS
The Technical Director requires that all cast members help build the set and set pieces. This is an excellent opportunity for you to understand, first hand, what's involved in building a set.

You will meet and get to know members of Tech Crew. You may also be asked to help move props or set pieces during the show.

At the Technical Director's disgression, you will be shown how to use power tools along with the many hand tools required during the construction process. The skills you learn will stay with you long after you leave GHS. Just think of the sets you can build once you have your own home!! Or maybe just do some remodeling or painting instead.

It would be a good idea to get your Tech Build hours in as soon as possible. That will be one less thing you have to worry about during Dress Rehearsal.

NOTE: If you start feeling a bit too important because you have a leading role, just remember that Tech Crew controls the lights and sound. As Woody told Sid, "Remember to play nice." And most of all, have fun!!
TECH WEEK
This is the week leading up to opening night. Depending on the size of the production, it can be the two weeks prior.

As a member of the cast, this is a good time to complete the number of required hours building the set if you've not already done so. There are always last minute things to be done and a finishing touch here or there.

The Technical Director will communicate their expectations to you. Contact them if you have any questions.
DRESS REHEARSAL
This is the week leading up to opening night. This is often the most intense time before the show opens as you are dealing with costumes, props, a set that is evolving into it's final form and lighting cues.

Expect the days to be long. Bring stuff like homework to do as time permits.
TIME MANAGEMENT
One of the challenges that you'll face as a member of the cast is time management. This is particularly true during dress rehearsals.

Depending on which role you're playing, you can expect to spend a significant amount of time on stage rehearsing scenes. Musicals are notorious for late hours.

Here are some recommendations on how to cope. You may find some of these useful or you may have perfected your own way to deal with the timey wimey stuff.

Just know that many others have successfully navigated this challenging time and we have no doubt that you will too.

Be Pro-Active
If you have projects or papers due the week of the play, schedule time to work on them as much as possible beforehand.

Work Smart
If you get home late and still have homework, do the work that requires the least amount of mental energy. Set your alarm to so you get up early the next morning. You will have a rested mind to help you with what's left.

Get Enough Sleep
Regardless of everything else that's going on, make sure you get a minimum amount of sleep each night. Speaking from experience as a parent and one who as dealt with this first hand, you are no good to anyone if you cannot keep your eyes open.

Seek Advice
Let your teachers and parents know if you're starting to feel overwhelmed with everything that's required of you. Seek their advice to help you set priorities and how best to handle the work load.

If you forget everything else, just remember four things. Get enough sleep. Do your homework. Go to rehearsal. Have fun. Not necessarily in that order and not all at the same time. No snoring on stage!!! Unless it's in the script.